Back in January I traveled up to Leeds to attend the first ever Bsides Leeds.
There was a meetup on the evening before the event with a couple of talks planned that didn't end up happening, although it was quite cool to chat to some random people and spot a few well known faces. Despite the evidence below @ZephrFish wasn't harmed.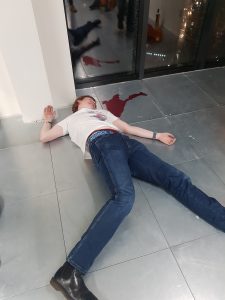 The conference started off with a keynote from freakyclown and Dr Jessica Barker who run RedactedFirm.com. I've seen FC speak before about breaking into banks (legally) which was very cool so was quite excited for this. It was a very different talk than the one I was expecting and not the sort of thing I'd normally make the effort to attend but I really enjoyed it and listening to them helped me. Video below, most defiantly worth a watch if you have a spare 45 minutes.
I also saw a talk by Gilad Yehudai from Incapsula and attended a workshop by @myexploit2600 and Jamie Shaw (@5ub34x).
Overall the conference was great fun, credit to @LargeCardinal and his group of goons for organising the event. It was also nice to see a high attendance of students and members of Leeds EHS who got a lot of encouragement from some of the top hackers in the UK.